Black Friday 2023 is here!  From your skincare savers, to your makeup bag must-haves, these are the best Black Friday clean beauty deals for 2023.
Black Friday is basically one of my favorite days of the year!  I mean, forget about the turkey!  Bring on the deals and steals and gifts with purchase!  I am all about it.   And this year promises to be better than ever with more and more stores offering great deals online.  Black Friday deals are here! 
What is Black Friday?
I can get a little overzealous about Black Friday.  I love it. I love that Black Friday is all about finding great deals Thursday night and into the wee hours of the morning on Friday, when most people are still sleeping off all that turkey dinner, and finding the sales that all but disappear by the time the malls get crowded on Friday morning.  I just love a good deal, don't you? Not only is it a great time to find gifts for your family and friends, but it's also a great opportunity to find those skin care and makeup essentials for yourself.  It's the one day a year where brands try to outdo each other with obscene discounts on your favorite hair, makeup, shampoo and skincare. 
When is Black Friday 2023? 
Black Friday is always the day after Thanksgiving (which is always on the fourth Thursday in November).  This year, Black Friday with be on November 24th! The best part about getting your shopping done on Black Friday, is that with all the money you'll save, you'll be able to get even more gifts for yourself.  Clean beauty companies like Beautycounter have some really great gifts and you can bet that they will be doing something fun for Black Friday, this year.  With luxe clean beauty brands offering discounts on all your favorite (or soon to be favorite) products, you won't need to break the bank to score some really great clean beauty products.     
There are going to be plenty of clean beauty deals from some of the best brands on the market –so much so that you're bound to get a bunch of names crossed off your Christmas list.  I've made it my personal mission to find the best in clean beauty deals and list them here.
BTW, some of the links in this post are affiliate links and we will be compensated if you click through and buy. Read our disclosure policy here. So, consider me your personal clean beauty deal finder. I'll be posting the deals here as I find them.  
Black Friday & Cyber Monday Clean Beauty Deals Roundup
I've created a Black Friday Clean Beauty Directory with a few clean beauty faves from each brand to help you.  Some of these brands aren't clean beauty brands but I've included some of the products that are meet clean beauty standards.  
A few notes to help get you started:
Sales are listed in alphabetical order.

I will be adding to the list as I discover new deals so it would be a good idea to bookmark or Pin this post.
Also, many brands are starting their Black Friday Sales already.  So be sure to check back often!
Happy Shopping!
Algenist
Algenist Black Friday Clean Beauty Deals
While I wouldn't consider Algenist a clean beauty brand (with EWG Skin Deep scores between 2-6, I can say that their Algenist Regenerative Anti-Aging Moisturizer with SPF 20 has a score of 2 (that's a good thing).  Historically, Algenist's skincare has been offered at 30 percent off on Black Friday.
Au Naturale Organic Makeup 
Au Naturale Black Friday Clean Beauty Deals
This super clean brand was super generous last year with 25% off sitewide.  Not to mention all orders over $50 (on both Thanksgiving and Cyber Monday) received a free Eternity Lipstick.  And to top it all off on Cyber Monday you were given a $30 gift card for orders over $100.  I can't wait to see what they bring us this year.
Beauty Heroes
Beauty Heroes Black Friday Clean Beauty Deals
This year, Beauty Heroes introduced Blue Friday, a laid-back way to enter the holidays, and your opportunity to save more, stress less and give the planet a break. Shop their curated collection of Blue Beauty, zero-waste, lifestyle wares, and exclusive collaborations with their favorite brands.  Receive free zero-waste wrapping for zero-stress gifting and a 100% biodegradable gift tag for your personalized note.
Beautycounter
Beautycounter Black Friday Clean Beauty Deals
Beautycounter has rightfully touted this year as their Best Black Friday Ever!  I would have to agree.  This year their sale is even better than last years with 20% off sitewide, free shipping on orders over $50 and a free gift of choice on orders over $150!
They have some absolutely gorgeous clean beauty holiday sets.  
 I highly recommend the Good Scents Hand Cream Trio.  It's only available this time of year.
Shop Beautycounter the Black Friday Sale
Biossance
Biossance Black Friday Clean Beauty Deals
In years past, Biossance has offered their best selling 100% Squalane Oil for $19 (a $32 value) along with a FREE Rose on the Go on orders over $50 with code: ALLROSES.  Additionally, you were able to pick 2 free samples with orders of $50 or more.
The Choosy Chick Store
The Choosy Chick Store Black Friday Clean Beauty Deals
Last year you could use the code GOBBLE to get 15% off everything. The sitewide discount did not include the Green + Glamorous Box.  From Nov. 10-12 all Innersense products are 20% off with code INNERSHINE.  From the 15th to the 27th of November take 15% off sitewide with code THANKFUL.  Find clean beauty deals on brands such as Au Naturale, Badger, Kosmatology, Leahlani, and Lily Lolo.
Cocokind Skincare
Cocokind Skincare Black Friday Clean Beauty Deals
From Nov. 21 thru 28 take 25% off sitewide and 30% off bundles.  Additionally, a limited-edition Body Cleansing Bar comes free with your purchase of $75 or more.
The Detox Market
The Detox Market Black Friday Clean Beauty Deals
If you're looking for a one-stop-shop for all your clean beauty needs, The Detox Market is pretty much as good as it gets.  With green beauty goodies galore, you'll find plenty to fill your cart with. In years past, they've offered $10 off above $100, $30 off above $200 and receive a free Ca + R Serum Concentrate from Odacite ($55 value) and $80 off above $400 and received a free Ca + R Serum Concentrate and free Rose + Neroli Hydrating Mist ($94).  
Clean Beauty Deals Tip: Make the most of this deal by getting any clean beauty items offered that are not hosting Black Friday and Cyber Monday deals of their own.
Elemis
Last year Elemis offered 25% off your purchase using the discount code BLACKOUT at checkout.  Cyber Monday required its own code for 25% off. And you received a free gift of three deluxe samples when you spent $150 or more.  
Ella + Mila
Right now, for a limited time, they're offering all of their nail polishes for buy two get one free when you use code TKCL2N1N. That means you can score individual polishes for just $7.00, normally $10.50.
The Green Goddess Shop
Last year this online beauty shop offered 30% off sitewide.  
Honeybee Gardens
Older products from this line had better ratings on the EWG Skindeep Database.  Their newer products are still relatively clean with an average score of 4. Last year they offered 50% off your entire purchase with the code BFR117.  
Kosmatology
Last year Kosmatology offered 30% off.  
Leahlani Skincare
This Hawaiian beauty line has a cult following for good reason.  Last year you received 20% just about everything with the code: ALOHAFRIDAY. 
Olie Biologique
Last year Black Friday shoppers could get 30% off the entire Olie Biologique Amazon Store from Friday, 11/24 through Monday 11/27.
One Love Organics
One Love Organics is hosting their Cyber Sale Extravaganza with 25% off everything site-wide.  
Join OLO's Loyalty Rewards Program and you'll get EARLY ACCESS to the sale a full 48 hours BEFORE everyone else! And you'll earn points toward discounts and special offers for later purchases. Receive 200 points just by signing up!
Join by Tuesday, November 26th, 11:59 PM EST to get Early Access that begins Wednesday, November 27th.  Sale runs from 11/29/19 at 8:00 AM EST through 12/3/19 at 11:59 PM EST.
RMS Beauty
 Get 20% off everything sitewide from RMS Beauty.  No codes needed. Plus get a free gift automatically added to your purchase of $75 or more.  Green Friday event ends Monday, November 25th @ 11:59 EST.
Sara Happ
Although there aren't many products from this brand on the EWG Skin Deep database, the products listed are clean.  Last year you could get 20 percent off your purchase at Sara Happ with code THANKFUL from Nov. 23 through Nov. 26.
True Botanicals
Last year you got 20 percent off sitewide AND $10 credit to use in December for every $75 spent during the Black Friday and Cyber Monday event.
Youth To The People
Last year you could take 25 percent off skin care sitewide at Youth to the People from Nov. 22 through Nov. 27.  Most of the products from Youth To The People have an average EWG Skin Deep rating of between 2-4.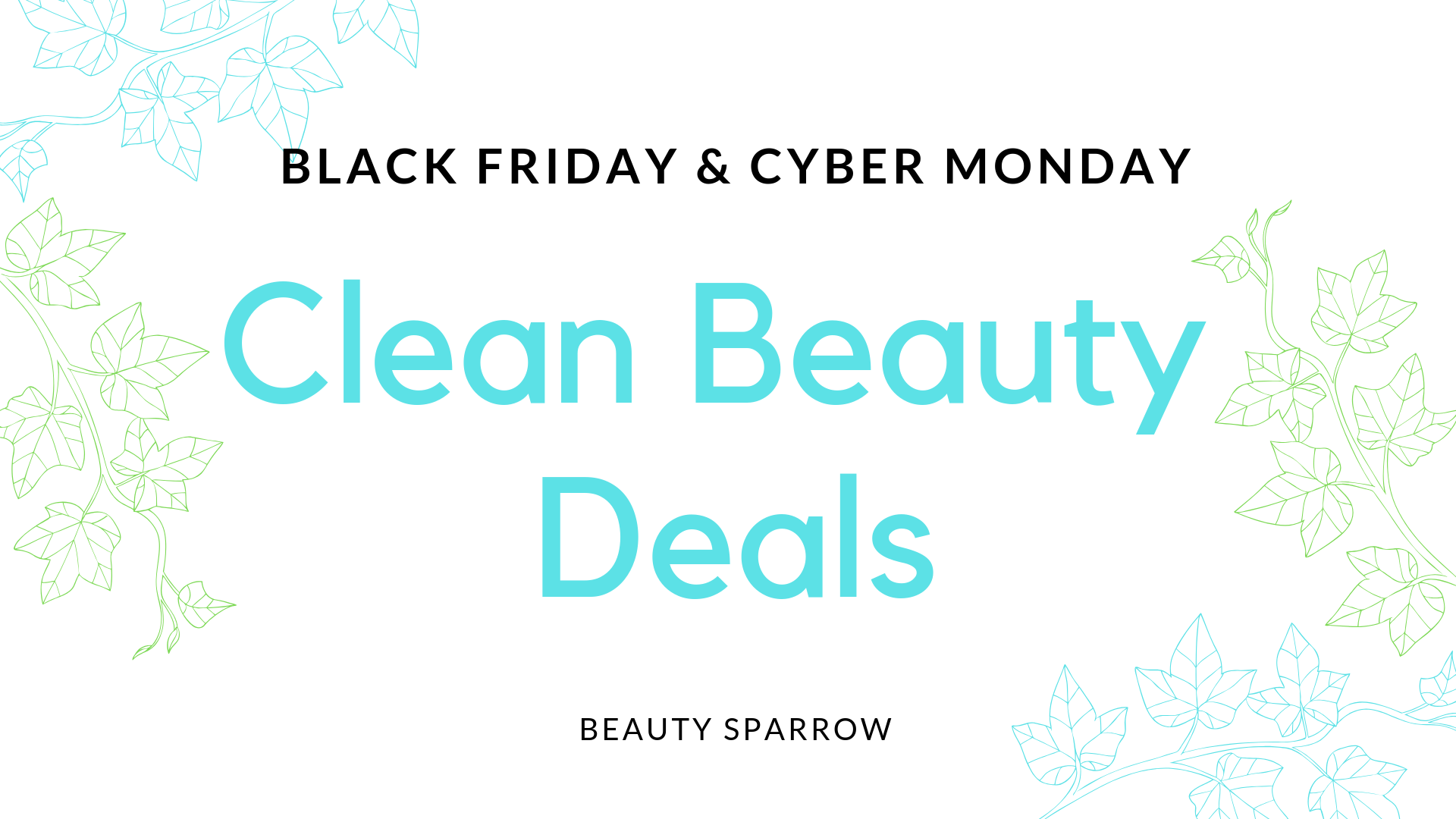 Be sure to check back often for the latest Black Friday and Cyber Monday clean beauty deals.  Follow my Facebook page Clean Beauty Deals for an inside look at my Black Friday finds and more.  As always, I hope you had a wonderful Thanksgiving and have a blast shopping!  Enjoy!!!