Here's the deal. Beautycounter has decided that they don't want to have too many sales. They are consciously trying to move away from being too promotional. This is a good thing for their luxe clean beauty image but a bad thing for those of us who love a good deal. So, what I'm saying is that, with deals being few and far between, now would be a good time to get your hands on some free product. When it comes to deals where you have to spend a certain amount in order to get something, I personally like to get the amount I spend as close to minimum as possible. It makes me feel like I'm winning at life. So, I've put together a few suggestions to make your life easier. Oh yeah, and full disclosure, this post contains affiliate links. It just means that when you buy things through my links you're helping to support my family at no additional cost to you. So, thank you! Here are the top 4 ways to save on Beautycounter this weekend.
Idea Number 1:
Clean Beauty Deals
One of the most obvious ways to save on Beautycounter is to buy things during promotions. For whatever reason while companies like Beautycounter are increasingly snobbish when it comes to sales, they do still have their share of promotions. These deals are usually found on the home page. Find the latest Beautycounter deals here.
Idea Number 2:
Join Band of Beauty
Did you know that Beautycounter has a membership program? You can get rewarded every single time you shop with Beautycounter! It's kind of like Amazon Prime for clean beauty. Right now you get a welcome gift (with a $44 value) when you spend $50 or more on products enrolling. You get free shipping on qualifying orders of $100 or more and 10% product credit on applicable orders. That means that if you spend $100 on product purchases, you will get $10 towards your next purchase. It costs $29 a year. It does not renew automatically. Join Band of Beauty here.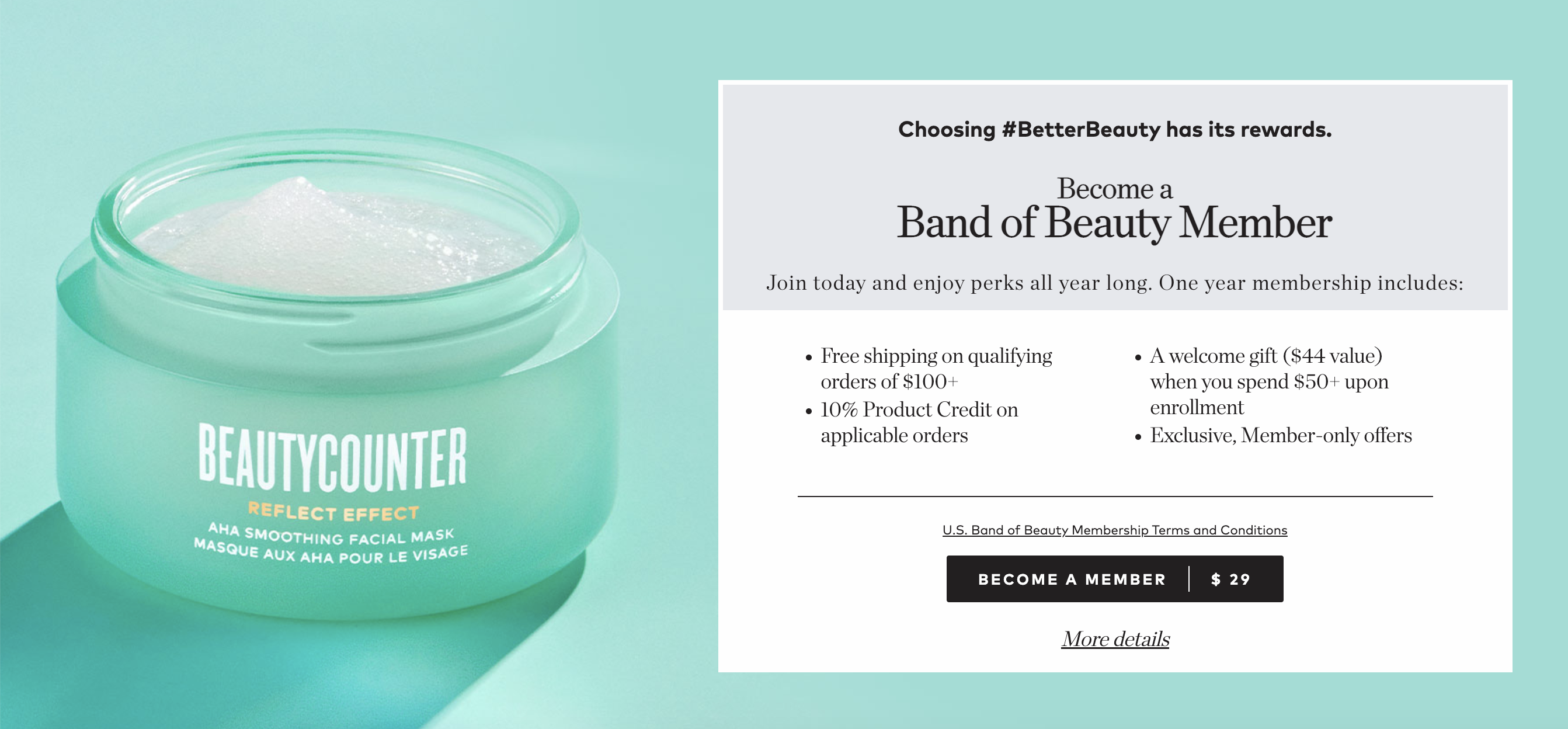 Idea Number 3:
Shop Through Swagbucks
Are you a Swagbucks member? If you are, right now you can get an additional 2% back in Swagbucks. They can be redeemed for all sorts of things including gift cards to Amazon. That's 2% back on top of the 30% off you can snag as a new customer. Just select Beautycounter on the Swagbucks website to get credit for your purchase. Sign up for Swagbucks here.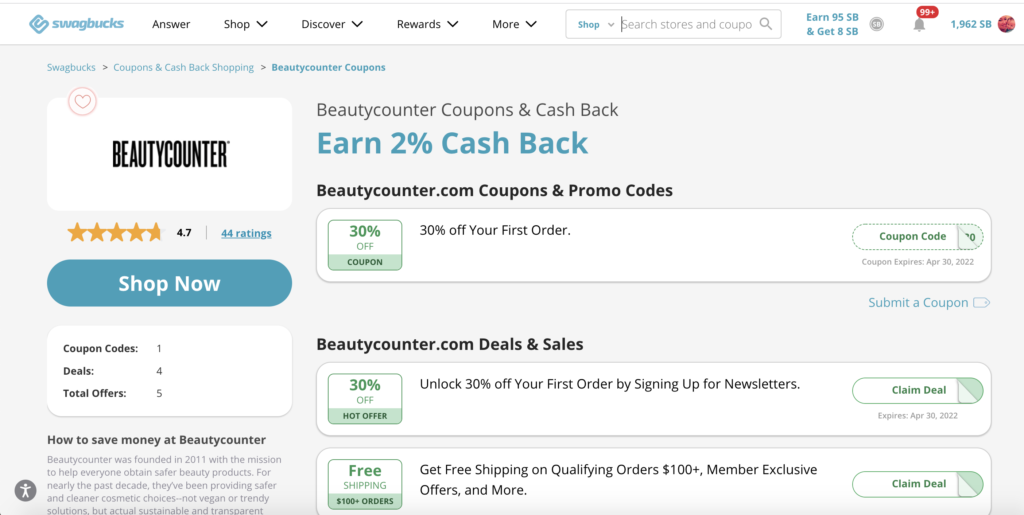 Idea #4
Combine Savings Ideas to Save Even More
You guys! This is exciting stuff. Did you know that you can combine several of these ideas? If you go through the Swagbucks link and put in the code for first time shoppers and then add the membership to your site you'll be able to save even more. As long as your cart is over $100 after the new shopper discount is applied, you'll also receive 10% credit from Beautycounter for your next purchase and 2% in Swagbucks. I don't know about you but that really gets me excited!
Idea #5
Subscribe and Save on Beautycounter
One of the newer things that Beautycounter has introduced to save clients money is the auto-renewal program. A bunch of the more popular items have this feature available. You can subscribe and save on Beautycounter favorites like All Bright C-Serum, Clean Deo and Think Big All-in-One Mascara. Much like Amazon, when you add the item to your cart it will give you the option of auto-renewal. This will save you 5% on this initial purchase and 10% on subsequent purchases. And Band of Beauty Members will be eligible for free shipping after spending just $50 on these purchases. And don't worry, you can cancel at any time.
Idea #6
Upgrade to Consultant Status
As a Beautycounter Consultant you get 25% off all the products and have the opportunity to earn between 25 and 30 percent in commissions throughout the year. You also have the chance to earn company perks and prizes. In the past Beautycounter has offered incentive trips and goodies like Apple watches. If you're already a Band of Beauty member it is only an additional $21. If you're not a Band of Beauty Member, becoming a consultant only costs $50. If you're interested in becoming a consultant you can sign up here.