Masking isn't a huge part of my everyday self-care routine, mainly because I forget to do it.  Every morning, without fail, I drink my Super Greens with Apple Cider Vinegar, map out the day, take my inbox down to zero, journal and enjoy a bulletproof coffee.  I've made it a point to add facial & affirmations to my checklist so that I won't forget.  But for some crazy reason it just hasn't stuck yet.  
I do however love the feel of a good mask and I'm a huge fan of charcoal products.  I feel like I've just been waiting for a mask that will make my pores look smaller, clear up any acne I may be dealing with,  while being full of safer, non-toxic ingredients.  Plus, I need it to work quickly because I have stuff to do.  Right?!  I've been hearing a lot of good things about the Beautycounter masks on Facebook and Instagram, and after making sure that it would work for my skin type, I decided to give it a try– here is my honest review of my experience using the Beautycounter Charcoal Mask.    
What is Beautycounter?
If you're not familiar with Beautycounter, they are a company dedicated to getting safer products into the hands of everyone.  Their ingredient selection process ensures safer and cleaner beauty products that work beautifully.  This process handpicks the best ingredients while prohibiting the use of over 1,500 harmful or questionable ingredients.  
What Is It?
Beautycounter Purifying Charcoal Mask
No. 3 Balancing Facial Mask by Beautycounter is said to be perfect for all skin types and those concerned with congestion and oily skin. This kaolin clay mask is packed full of nutrients.  It purifies and balances, drawing out impurities and absorbing excess oil.  Its smoothing abilities are a result of activated charcoal which helps to minimize the appearance of pores.  Salicylic acid aids with exfoliation.  Charcoal draws bacteria, poisons, chemicals, dirt and other micro particles to the surface of skin.  It is excellent for fighting acne and achieving a flawless complexion.  
What's In It?
Beautycounter Charcoal Mask Ingredients
It took a bit of doing but I listed all the ingredients and what they are used for.  I'm learning as I write.
Aqua/Water/Eau

is a solvent.

Kaolin is used as an absorbent adhesive.
Charcoal Powder comes from the Ubame Oak Tree and is an absorbent. It is used to draw bacteria, poisons, chemicals, dirt and other micro-particles to the surface of the skin helping to improve the complexion and to fight acne.

 

Magnesium Aluminum Silicate is an absorbent.

Illite is an absorbent.

Glycerin

is responsibly sourced from palm and is used for its e

mollient, humectant, solvent, fragrance properties.

Pyrus Malus (Apple) Fruit Extract is used for skin conditioning

.

Tetrahexyldecyl Ascorbate has antioxidant, skin conditioning properties.
Xanthan Gum helps with skin conditioning and binding.
Camellia Sinensis (Green Tea) Leaf Powder helps with skin conditioning.
Olea Europaea (Olive) Leaf Powder helps with skin conditioning.
Zingiber Officinale (Ginger) Root Powder helps with skin conditioning.
Salicylic Acid is an exfoliant and preservative.
Caprylyl Glycol is an emollient and solvent.
Pentylene Glycol is used as a preservative and solvent, good for skin conditioning. Mentha Piperita (Peppermint) Extract helps with skin conditioning.
Allantoin helps with skin conditioning and soothing, and is a sensory enhancer.
Lactic Acid helps with skin conditioning.
Ethylhexylglycerin is a deodorant and preservative that helps with skin conditioning and moisturizing.
Mentha Piperita (Peppermint) Oil* is used as a tonic and for its fragrance.
Sodium Hyaluronate is a humectant used as a sensory enhancer and skin conditioning agent.
Sodium Hydroxide is used as a PH modifier.
Chlorphenesin is a preservative.
Phenoxyethanol

is a preservative.  
*Organic/Biologique
Beautycounter Charcoal Mask Directions
The key to making masking an enjoyable, spa-esque experience is to paint it onto your face.  I prefer a soft, smooth foundation brush.  This will keep the product off your hands and on your face where it belongs.    
Apply an even layer to clean skin.  

Let dry for 10 minutes,

Rinse thoroughly with warm water.*  

Use 2-3 times per week.  
The Beautycounter website recommends that you rinse the mask thoroughly with warm water.  Others have suggested (and I agree) that the best way to remove the mask is with a warm wash cloth.  I personally purchased gray colored ones.   
Beautycounter Charcoal Mask Spot Treatment Directions
Apply directly to breakout site.

Leave on overnight.

Rinse or wipe thoroughly with warm water upon waking.

Use 2-3 times per week.
My Beautycounter Charcoal Mask Review
For my first go, I used the No. 3 Balancing Facial Mask by Beautycounter.  
The Application Process
Since the directions are pretty straight forward, I initially found the mask application process fairly simple.  I definitely used a mirror to make sure that I didn't get the mask all over the place.  I didn't have a foundation brush at the time so I used my fingers.  This worked just fine but I did have to rinse my fingers.  Minor set back.  The mask has a cooling effect that you can feel as soon as you put it on.  It also smells delightful.  It smells like peppermint!  As it begins to dry it goes from being a dark, almost-black color to a muted gray.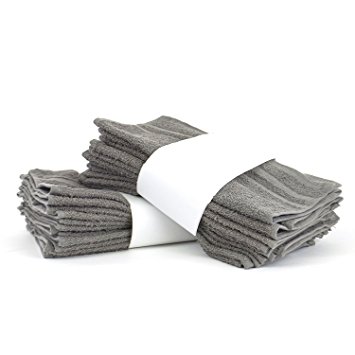 I ended up rinsing the mask off in the shower (which is what I would typically do).  When I got out of the shower, I realized that I had missed some spots.  Especially in the area around the nose and my chin.  This is one of the reasons I would definitely recommend using a washcloth.  
One aesthetician described washing and rinsing like cleaning the floor by pouring cleaning solution on it and then throwing water over that and expecting it to be clean.  The washcloth helps to get off any of the mask that is sticking to your face.  It also gently exfoliates.  Bonus!
Beautycounter Charcoal Mask Reviews
Here are some rave reviews for Beautycounter's No. 3 Balancing Facial Mask.  Customer Megan S. says it's great for acne:
I've had acne for most of my life and I've tried every prescription medication, face wash, face treatment there is you name it… but this mask I have truly seen an improvement in my skin. Yes I still have some break outs but they are not nearly as noticeable and do not last as long either. They are smaller in size and do not have that cystic quality I was used to. Worth a shot if you suffer from acne and have tried other alternatives.
Alicia N. calls it a Miracle Worker:
I purchased this in hopes that it would help minimize my husband's blackheads.He has absolutely terrible blackheads on his nose, but abhors any time of skincare product. This is the one thing he actually likes (might even go as far as to say loves!). After he takes it off every time he says his face feels "fresh AF" and asked me multiple times to purchase the full size after we ran out of the travel size. That aside, it works incredibly well, especially paired with the No. 3 oil + facial mist! For the first time EVER his blackheads have been minimized by ~70%! I use the mask once a week too, and really like it as well. Leaves your skin very soft. And, I haven't had a single breakout since I started using the No. 3 trio 6 weeks ago! Love love love!
While customer Liana M. likes it's multi-tasking abilities:
I really like this mask. I can use it as a regular all over mask, or as a spot treatment on blemishes as they come up. it smells great and it comes off easily.
And Kandice J would go so far as to say she's obsessed:
I struggle with hormonal acne and my amazing consultant suggested I try the mask. I use the mask both as an overnight spot treatment (way better than prescription acne meds!!!!) and as a quick full face mask..only slight downside is it makes a mess in the sink if I'm not careful but totally avoidable and not a big deal!! 
Final Thoughts on the Beautycounter Charcoal Mask
No. 3 Balancing Facial Mask
Overall, I love this mask.  It has a great smell and is a great addition to any beauty regimen.  What is most impressive to me is that it can really help to keep skin looking smooth and clear.
The only downsides to this mask are:
The mask can get a bit messy.  If you choose to rinse it off without using a washcloth, it can get all over the sink.  I recommend using a washcloth or rinsing in the shower.

It takes up at least 12 minutes of your morning.  I like to put it on and do other things.  Ain't nobody got time for that!
All-in-all, you just can't go wrong with masking.  If someone told me that I would have clearer skin if I just took 12-minutes out of my day every couple of days, I would be all over that.  It performs amazingly well and I know that I'm using something that's safe and non-toxic.  That being said, I will definitely be masking!  
Mask On!
Ways to Buy
For any of you who may want to try this mask right now, there's one more Holiday Haul item that will get it to you at a discount.
One of the best ways to get your hands on Beautycounter products at a discount is to get them in sets.  Right now, get the Daily Detox Charcoal Set has the one-two punch best-selling charcoal cleansing bar and facial mask duo.  Both come packaged together in a red gift box with crinkle paper. These are full-sized products and they are a steal at $52 ($72 value).
Just try to get it soon.  There were other sets that included the charcoal mask but they have already sold out. I also happened to find it on Amazon and you can click here to get it.