I don't wear lipstick on a daily basis.  It just seems a bit overkill considering my current yoga pants, t-shirt and messy bun lifestyle.  But every now and then, I have to leave my den and do some adulting.  This calls for lipstick.  Here's my honest, first-hand review of Beautycounter Sheer Lipstick.    
Also, just so you know: This post contains affiliate links. If you choose to purchase any of the products I have recommended, I may receive a commission at no cost to you. For more information, please see my disclosures. 
I have a few rules when it comes to lipstick.  One, it must be forgiving.  Meaning, if I'm going to need a Magic Eraser every time I color outside the lines, we will have a problem.  Two, it cannot contain lead.  Did you know that a few years back the FDA found lead in something like 400 lipsticks?  Some of those lipsticks had three times the levels allowed in food.  Um…that's just not okay.
Beautycounter Sheer Lipstick
My general distaste for anything that could kill me A.K.A lead-laden lipsticks lead me straight into the arms of Beautycounter.  Here I found a company that wouldn't just keep lead at bay, but they would also make sure that more than 1,500 questionable or harmful chemicals would never  be used as ingredients in their products. This includes the over 1,400 chemicals banned or restricted in personal care products by the European Union, plus additional chemicals screened by Beautycounter and found to be of concern.  That's something to cheer about.  Basically, Beautycounter makes me feel safer so I'm with Beautycounter.  I'll take my lipstick unleaded, please!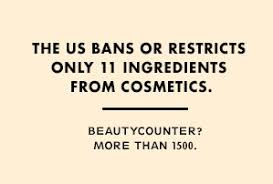 What is Sheer Lipstick?  
You might be wondering if lipstick and lip sheer are the same thing.  The answer is no.  Lip sheers are made with a higher oil component.  They appear darker in the tube than they are when applied to your lips.  As the name implies, they are sheer. They offer just a hint of color along with moisturization and shine.  But Beautycounter calls their product a sheer lipstick.  That's not at all confusing for anyone.
What It's Like
Sheer Lipstick by Beautycounter is said to be silky-smooth, long-lasting, lightweight and ultra-moisturizing. They color-test every shade to complement all skin tones.  They have no synthetic fragrance and can be layered to intensify the color.  
There are currently 10 sheer lipstick colors available including best-sellers like Terra, Petal, Rose, Scarlet and Twig.

What's In It?
Diisostearyl Malate

is used for its

emollient, skin conditioning and surfactant properties.

Jojoba Esters are sourced from the Jojoba Plant or is synthetic and is used for its antioxidant, emollient, moisturizing, skin conditioning, soothing properties and for its fragrance.
Octyldodecyl Ricinoleate is used for its emollient properties.
Ricinus Communis (Castor) Seed Oil is sourced from Castor Plant and is used for its skin conditioning properties.
Cera Microcristallina/Microcrystalline Wax/Cire microcristalline is used for its viscosity controlling properties.
Vanilla Planifolia (Vanilla) Fruit Extract is sourced from the Vanilla Plant and is used for its fragrance.
Cera Carnauba/Copernicia Cerifera (Carnauba) Wax/Cire de carnauba is sourced from the Carnauba Plant and is used for its film forming, skin conditioning, viscosity controlling properties,
Candelilla Cera/Euphorbia Cerifera (Candelilla) Wax/Cire de candelilla is sourced from the Candelilla Plant and is used for its astringent, emulsifying, film forming, skin conditioning, viscosity controlling, and occlusive properties as well as its fragrance.
Calcium Sodium Borosilicate comes from a mineral or synthetic source and is used to and bulk and as a colorant.
Tin Oxide comes from a mineral source and is used for its abrasive, absorbent, bulk, opacifying and viscosity controlling properties.
May Contain:
Titanium Dioxide (CI 77891)

comes from a mineral source and is used as a colorant and for its

opacifying property and as a sunscreen agent.

Iron Oxides (CI 77491, CI 77492, CI 77499) comes from a mineral source and is used as a colorant.
Yellow 5 Lake (CI 19140) is a colorant.
Red 7 Lake (CI 15850) is a colorant.
Red 6 (CI 15850) is a colorant.
Red 27 Lake (CI 45410) is a colorant.
Blue 1 Lake (CI 42090) is a colorant.
Sheer Lipstick Application Instructions
Apply Sheer Lipstick directly to lips from applicator.

Repeat application for a bolder look.  

Add a finishing layer of Lip Gloss for added luster.
My Beautycounter Sheer Lipstick Review
For my first go, I tried out Beautycounter's Texas Poppy Sheer Lipstick.  It was part of this year's Holiday Haul which includes the Poppy Lip Duo.  Texas Poppy is made of a shimmering pink-red hue and comes with a coordinated Lip Gloss.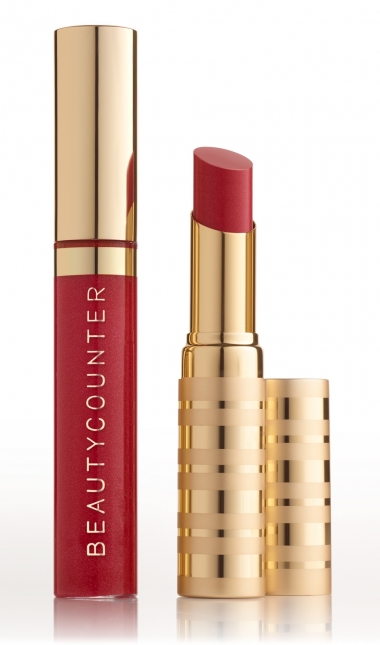 Since I don't wear a lot of lipstick, I was very pleased with the ease of application.  It was very forgiving.  It hardly took any time at all to put on.  It went on smooth and smelled like mint.  The mint also leaves a bit of a cool sensation on the lips.  It is a refreshing scent.  The other sheer lipsticks from Beautycounter are not minty at all.  The hint of mint was added to the Holiday Collection only.  The rest of Beautycounter's sheer lipsticks are scented with vanilla planifolia and smell wonderful.
I love that even if you don't get your first layer of lipstick perfect, the color is so sheer that you can easily make corrections with the next layer, or the layer after that.  I also love the subtlety of a single layer.  It's really like having 3 lipstick shades in one.
What is it Like?
The formula of the Beautycounter Sheer Lipstick is that of a lip sheer.  It looks exactly like a lipstick.  It's also very smooth. Probably because of the Jojoba Oil in the formulation.  After the full 2-3 coats, it still feels light and moisturizing.  
Sheer Lipstick Wear Test
There was still a hint of color left  around the outer edges at the end of the day.  I learned that if you like the color to pop, you need to apply it every couple of hours.  Still, this lipstick feels so nice, you'll actually enjoy putting it on.  It's like therapy.  A moment of soothingly tranquil lip therapy.
Final Thoughts on Beautcounter Sheer Lipstick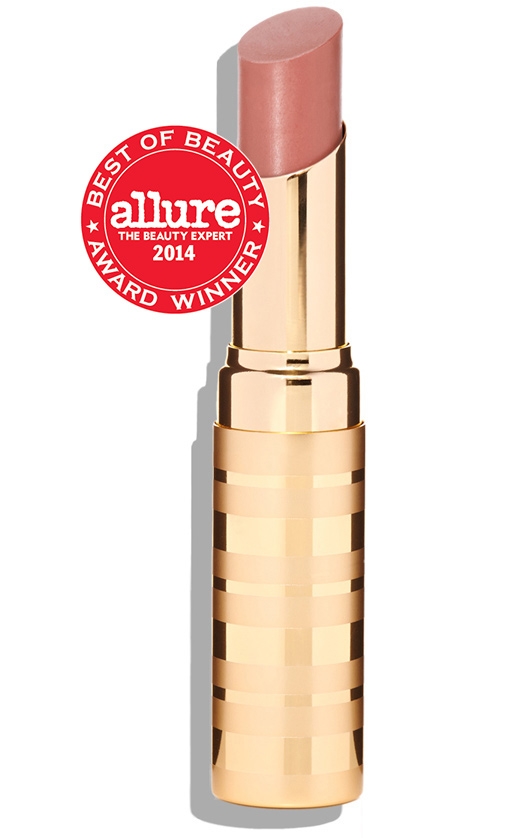 Overall, I love the way this lipstick looks and feels.  If you are a lipstick newbie, you will appreciate the ease of application.  Lipstick veterans will appreciate the variety of looks that can be achieved.  And we all can appreciate a beautiful smelling, smooth and luxuriant lipstick.  And it doesn't hurt that it won the Allure Best of Beauty Award either.  
The only downsides to this lipstick, in my opinion, are that:
If you are looking for a full-coverage lipstick, this is not it.

Frequent reapplication throughout the day is a must.
All-in-all though, as a mom of three running two businesses with way too much to do than is humanly possible, I love how easy it is to use this lipstick.  This is my everyday favorite.  My go-to on days when I want to look put together without spending too much time in front of a mirror.  It performs amazingly well.  
Where to Get It
Beautycounter Sheer Lipstick can be purchased from a Beautycounter Consultant here.
You can also find good deals on Amazon and eBay.