Have you ever had a really bad sunscreen experience? Maybe you've never even given sunscreen a second thought. That was me–once upon a time. I used to believe that if a sunscreen said that it was for babies that it had to be safe. I mean, first of all, surely there are laws in place to protect consumers from false claims, right? And secondly, who would take advantage of new mothers by misrepresenting their products? Surely no one would do that, right?! I had no idea how wrong I was. Here's my story and my honest review of Beautycounter Countermatch Mineral Sunscreen Lotion.
News Flash: Not All Sunscreens Are Safe!
So one sunny day, as I innocently lathered a baby sunscreen on my little girl, my sister introduced me to the Environmental Working Group, or EWG, Skin Deep website.  She looked up the sunscreen that I had just put on my child and pointed out that it wasn't considered that safe.  There were questionable ingredients in my baby's sunscreen!  This whole thing had me asking myself just what things did I assume to be true about sunscreen that weren't actually true.  This lead me to Beautycounter where I learned a host of things like this:
The Toxic Substances Control Act (TSCA), which passed in 1976 (and was updated in 2016) is the primary law that regulates chemicals. It is meant to empower the Environmental Protection Agency (EPA) to ensure that chemicals are safe. However, the EPA has not reviewed the majority of industrial chemicals for human-health impacts. Over the 30 years since TSCA was enacted, the EPA has succeeded in compelling hazard testing for only about 200 of the tens of thousands of chemicals in U.S. commerce. The newly reformed TSCA allows the EPA to evaluate more chemicals for safety.
It was shocking to me that there are literally thousands of chemicals that have not been tested for safety.  So I chucked the sunscreen I had been using (and borrowed some from my sister) and did some digging on the EWG Skin Deep website.  I was thrilled to discover that Beautycounter offered a sunscreen that has an EWG rating of 1 (with 1 being safest and 10 being extremely toxic).
Note: Eventually I did fall in love with Beautycounter and became a consultant.  That means that the links in this post will help me to buy more sunscreen for my family (wink, wink).  For more info on our disclosures click here.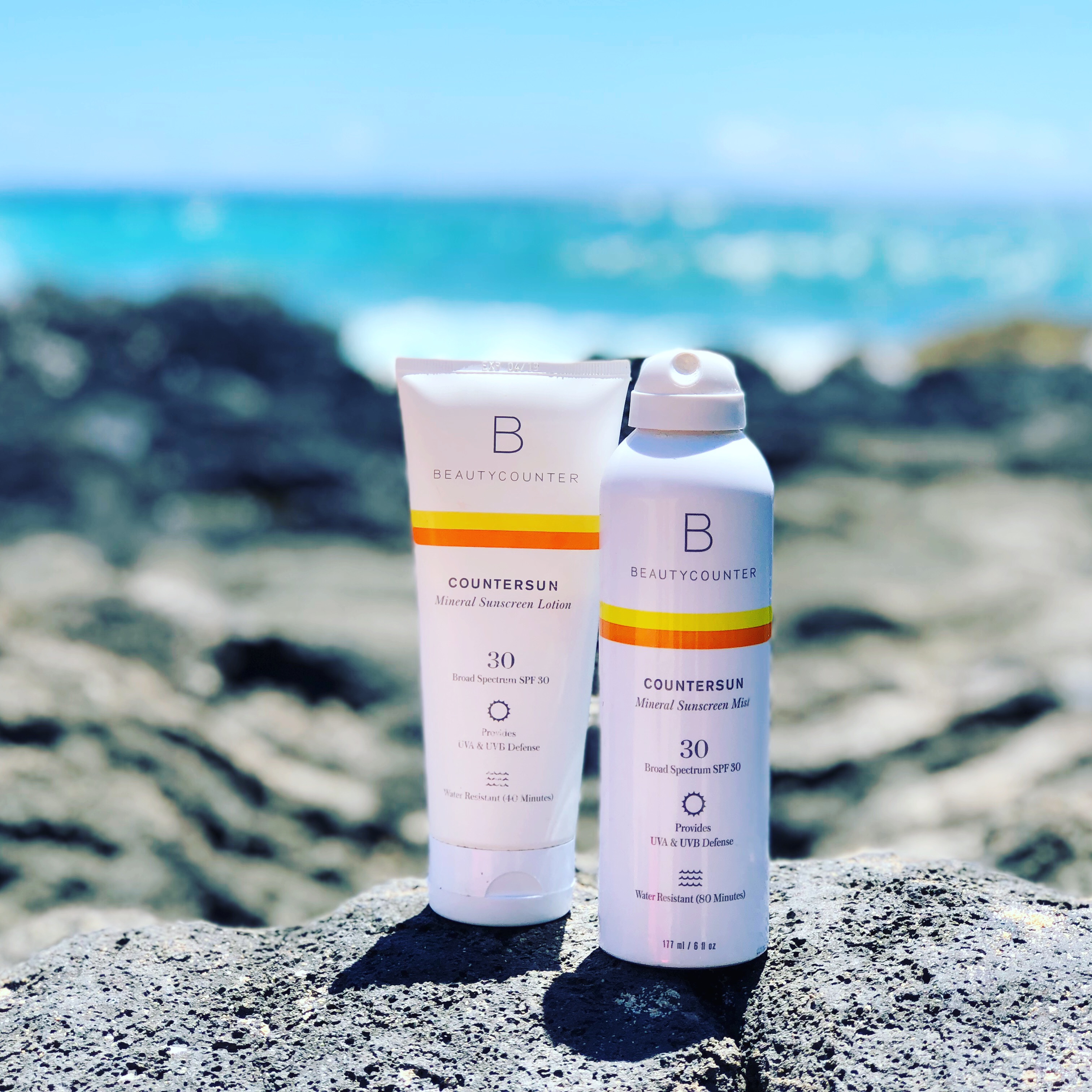 Beautycounter Countersun Mineral Sunscreen Lotion
What is it?
Beautycounter Countersun Mineral Sunscreen Lotion is a mineral sunscreen which means that it creates a physical barrier between your skin and the sun. Chemical sunscreens use ingredients like octinoxate and oxybenzone which can be harmful to humans. Beautycounter's untinted lotion (a 2018 Allure Best of Beauty award-winner) features a 19 percent concentration of non-nano zinc oxide, making it gentler on coral reefs and people. This sunscreen also features stand out ingredients like California poppy and various fruit extracts for a boost of antioxidants.
Beautycounter Sunscreen & EWG
As I mentioned earlier, Beautycounter Sunscreens can be found on the EWG Skin Deep database.  Here's what they had to say about Beautycounter Countersun Mineral Sunscreen Lotion:
EWG scientists reviewed Beautycounter Countersun Mineral Sunscreen Lotion, SPF 30 for safety according to the methodology outlined in our Skin Deep Cosmetics Database. We assess the ingredients listed on the labels of personal care products based on data in toxicity and regulatory databases, government and health agency assessments and the open scientific literature. EWG's rating for Beautycounter Countersun Mineral Sunscreen Lotion, SPF 30 is 1.
Beautycounter Countersun Mineral Sunscreen Reviews
My Review
First of all, I give Beautycounter points for packaging.  The orange and yellow stripes are cheerful.  The simple wording is sleek.  The packaging is pretty.  The lid opens easily enough for an adult but takes a bit of effort for children.  On the plus side, this means it is less likely to spill in your beach bag.  The downside is: you will have to help your little ones to pop open the lid.  The smell is fresh and clean–like oranges.  It is one of my favorite scents. I love that it has orange peel oil, lemon peel oil, tangerine fruit extract and tangerine peel oil.  It is really evident when you smell this refreshing blend of citrus.
And then there's the lotion itself.  It is surprisingly easy to spread.  If you've ever used mineral sunscreen, then you know exactly what I'm talking about.  This sunscreen goes on smooth!  And perhaps even more shocking than the fact that this mineral sunscreen goes on without clumping and pulling, is the fact that it doesn't leave a white residue.  It rubs in really well and leaves only a trace of white.  I've read that it doesn't leave any white but I find that it leaves a little.
Overall, this sunscreen is great.  It is safe for the whole family AND for the coral reefs.  I love the fact that before Hawaii made new laws banning both oxybenzone and octinoxate, Beautycounter had created reef-safe sunscreens without those harmful chemicals.  The only downside for me is that it is a bit pricey.  Compared to other "clean" sunscreens on the market, it is on the higher end of the price range.  However, as one who has often ventured to get cheaper sunscreens, I will say that it is by far the best one that I've tried.
Beautycounter Sunscreen Allure Review
BEAUTYCOUNTER COUNTERSUN MINERAL SUNSCREEN ON DARK SKIN TONES | REVIEW
Here's a snippet from a review featured in Allure Magazine by Karina Hoshikawa. They asked women of color to test this award-winning mineral sunscreen and here's what they had to say:
Right after blending it out, I'll admit that I did look a little ghost-like. However, it took about 10 minutes for the product to completely absorb into my medium skin — frosty finish nowhere in sight. And not only did it not break me out (mineral options, in general, are less likely to cause acne than their chemical counterparts, and are also completely safe for bébé), it played nicely under my makeup. "This sunscreen is definitely thicker than your average facial sunscreens which means you can use less product," says Allure editorial assistant Gabi Thorne. However, she adds that people with darker skin may notice a faint white cast. A seven-ounce tube retails for $39 (there's also a TSA-friendly option for $25), but if you ask us, a sunscreen that you legit don't mind using every day is truly priceless.
Shop Beautycounter Sunscreen
Beautycounter is a direct sales B Corp. That means that your purchases can help a consultant and her small business. I'd be honored to be your Beautycounter consultant.