This post may contain affiliate links.  Read my disclosure policy here.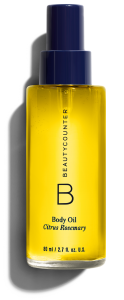 Admittedly, I am terrible about using body oil or lotion but, when I do actually find the time to shower, or if I'm going out, or doing something other than hanging around in my pajamas all day pretending to work, then I like to use my
Citrus Rosemary Body Oil
.  It is a wonder if used properly.  But how do you do that?  Let's find out. Have you ever had tight, itchy, sensitive, dull, and/or irritated skin despite the use of pricey body oils?  Body oil is a miracle worker when it comes to dry parched skin, but did you know it can be applied wrong?  It's true.  While it may seem obvious to apply oil to dry skin, there's a better way to do it.  Using oils and nothing else won't help save skin from trans-epidermal water loss.  That's just a fancy way of saying that it's dehydrated.  "'But how can my skin be dehydrated when I'm moisturizing constantly", you might ask.  This can happen when you use water-free products like body oils.  It's missing the stuff that makes your skin glow with nourished radiance.  I'm talking about water.
How to Use Beautycounter Oils
Timing is everything when it comes to body oils.  It turns out, the best time to apply your oil is when you get out of the shower.  Apply your oil of choice to damp skin straight from the shower.  Smooth a bit of oil all over your body, gently pat dry, and marvel your glowing, perfectly hydrated skin.
Beautycounter Body Oil Review
(Note: The Beautycounter links below are affiliate links, and we will be compensated if you purchase Beautycounter products by clicking through our links below. Read our disclosure policy here.)
And now that you know when to apply your body oil, I'd love to tell you a bit about one of my favorite body oils.  I'm a big fan of Beautycounter Body Oil in Citrus Rosemary.  Not only does it smell amazing, but it contains a whopping 13 botanical oils.  Let's just take a minute to marvel at that.  I love it so much that I've literally taken it around the world with me.  It has a refreshing, uplifting citrus smell.  I'm not a big fan of rosemary in general but I do love the smell of this body oil.  Aside from it being from Beautycounter, where I know it has been super tested for toxins and screened vigorously for harmful ingredients, what I am most impressed by is the sheer number of beauty benefits that I can get from these oils.
Beauty Benefits of Body Oil in Citrus Rosemary
Full Disclosure: I am not a medical doctor.  I'm just someone who likes to know everything about what I put on my body. With that said, here's what I've learned about the oils found in Beautycounter's Body Oil in Citrus Mimosa.
Sweet Orange Peel Oil
has been shown to increase the skin's ability to absorb vitamin C, boosts collagen production and blood flow, making it an anti-aging essential.
Marula Oil
also fights the signs of aging by preventing and healing damage that causes skin aging.  It is packed with antioxidants and helps the skin from appearing dry and dull.
Rosehip Oil
has anti-aging, antibacterial properties.  It helps to promote healing and brighten.  It can help with stretch marks and hyper-pigmentation.
Grapefruit Oil
can help treat acne and balance out oily skin.  It is also known to help reduce the appearance of cellulite.
Grapeseed Oil
is full of vitamin E and Omega-6 fatty acids which are essential for skin barrier function.  It helps to heal acne, lighten skin, and reduce the appearance of scars.
Jojoba Seed Oil
has anti-inflammatory properties and helps tame chaffing and reduce redness caused by drying.  It can help with eczema and rosacea.  Vitamin E and B-complex help with skin repair and damage control.
Rosemary Leaf Oil
is helpful if you have oily skin.  It also contains iron and calcium.  It is an antioxidant and may increase circulation.  It also helps to repel certain bugs including mosquitoes.
Rose Flower Oil
is excellent for moisturizing dry skin.  It has antiseptic and astringent properties making it ideal for acne-prone skin  It also helps to treat redness and inflammation.
Apricot Kernel Oil
is rich in vitamin K.  It also contains vitamin E and omega-6 fatty acids.  It helps with firming and toning the skin.
Sweet Almond Oil
is also a good source of vitamin E, protecting your skin from UV radiation damage.  It also helps keep skin smooth and toned.  It also contains vitamin A which can help reduce acne.
Meadowfoam Seed Oil
closely resembles human sebum effectively creating a moisture-locking barrier for the skin.  It is one of the most stable carrier oils with 98% long-chain fatty acids.  It keeps other oils from oxidizing and going rancid.
Sea Buckthorn Fruit Oil
is full of moisturizing fatty acids making it an excellent choice for its ability to revive skin cells.  Its high content of vitamins E and C help it to both smooth and tone the skin.
Argan Oil
contains essential nutrients and has antioxidant and anti-inflammatory properties.  It may help reduce the signs of again and help in the treatment of skin conditions like acne, rashes, infections and bug bites.  It can also help prevent stretch marks by improving the elasticity of the skin. As you can see, all body oils are not created equal.  Each of these oils would be great on their own, but together they address a host of skin concerns.  There are so many beauty benefits in this one amazing oil.
With all that being said, I would say that I recommend Beautycounter Body Oil in Citrus Mimosa.  If you have the money to spring for it, there's nothing like it.  Sure, there are plenty of skin care oils on the market right now, and many of these oils would be pretty good on their own, but this combination of oils makes for a superior product delivering a host of beauty benefits that you'd be hard pressed to find anywhere else.  You can get your Beautycounter Body Oil in Citrus Mimosa
here
.