So, true story, I spent 2 weeks in a house that had no mirrors.  The house didn't have a single mirror–not even in the bathroom.  It was…interesting.  In some ways it was frustrating.  I mean, I spend my time taking pictures of myself and trying to sell beauty products and I couldn't even look at myself!  But it was also freeing.  I didn't worry about what my hair looked like.  I didn't fret over my makeup or my features…or anything else for that matter.  At some point I just shrugged, sighed and said, "This is me, world.  Take it or leave it." And you know what, the world didn't stop turning.  People didn't cringe in horror at the sight of my less than perfect looks.  It reminded me that I am beautiful just as I am.  I don't need makeup.  You don't need makeup either.  You're beautiful, too.  Period.
Also, just so you know: This post contains affiliate links. If you choose to purchase any of the products I have recommended, I may receive a commission at no cost to you. For more information, please see my disclosures. 
That's my husband being a goofball behind me. Normally, I would never take a picture sans makeup and show anybody but a point had to be made: Makeup has its benefits!
Now, let's talk makeup.  There is something amazing that happens when you look good.  You stand up straighter.  You hold your head up high.  You bat your eyelashes a little bit more.  You might even marvel at yourself.  Makeup is transformative.  Click here to buy the Ocean & Pacific Palette now.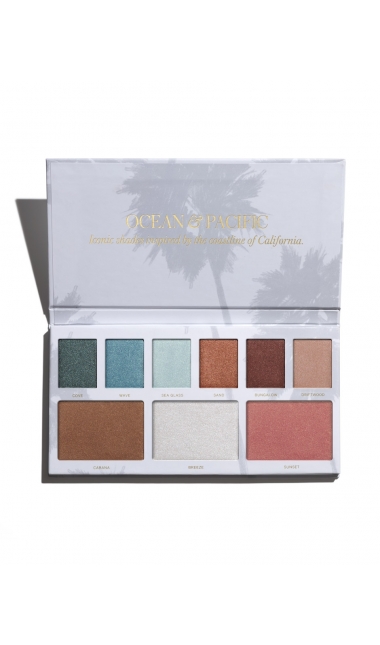 This Holiday Season, Beautycounter has introduced a truly beautiful jewel-toned palette.  I love a good palette!  Last season's Ocean & Pacific Palette was one of my favorites.  It sold out so quickly.  I bet this one will sell out quickly, too.  The Winter Jewels Palette is a limited edition wonder for the entire face.  It is packed with 11 all new shades –8 eyeshadows, 1 eyeliner, 2 highlighters–and a removable mirror.  I love that it includes a mirror!  I mean, I could've used that mirror a few weeks ago!  It's the perfect palette for any skin tone. Here's everything you need to know.
First things first.  Beautycounter is a mission-based organization dedicated to getting safer products into the hands of everyone.  That means that when you buy anything from Beautycounter, you can be assured that our products will never contain parabens, mineral oils, synthetic fragrances or any other ingredient that has landed on our "Never List".
The palette comes with several makeup tutorials.
The eyeshadow is ultra pigmented and shimmery.  The colors are beautiful and flattering on different skin tones.  Any of them can be used wet or dry to create different looks.  They can be used as liners.
The mirror pops out.
The palette is $58.  Order today.  If you don't love it, just return it within 60 days for a full refund.
This palette has everything you need to accentuate your gorgeous features.  Clean out your makeup bag and simplify with this stunning collection.  Get it while you still can.
Update: The Winter Jewels Palette is gone.  It is completely sold out.  But if you hurry, you can grab the Limited Edition Ocean & Pacific Palette before it sells out, too.